Teiid 8.13 for Wildfly 9.0.2 is now available. The main features are:
TEIID-3411 LDAP modeling can now better account for associations defined by multivalued attributes.
TEIID-3323 Vertica translator added.
TEIID-3515 TEIID-3530 Dependent join enhancements in hints and pushdown planning.
TEIID-2883 Actian Vector in Hadoop Translator added
TEIID-3595 TEIID-3594 Logging Enhancements for command and audit logging
TEIID-3546 IS DISTINCT FROM syntax support added for use in procedures.
TEIID-3521 Swagger Support for auto-generated REST web services
TEIID-3652 Additional OUTER JOIN planning to allow more flexibility in join ordering
TEIID-3668/TEIID-3618 OAuth Support with JWT Bearer Access Token and Salesforce SSO using OAuth2 (RefreshToken, JWT)
TEIID-3712 Date/Time Keyword Literal support was added in the parser.
TEIID-3722 Option to not widen comparisons to string was added via the system property org.teiid.widenComparisonToString
TEIID-3327 OSIsoft PI translator added for use with the PI JDBC driver.
TEIID-3727 Salesforce Translator added a translator and resource-adapter based on Salesforce Partner API 34
TEIID-3370 OData4 Translator added new translator to read/write from any compliant OData V4 source
TEIID-3890 Redshift Translator added to account for differences between Redshift and Postgres.
Teiid is a data virtualization system that allows applications to use data from multiple, heterogeneous data stores.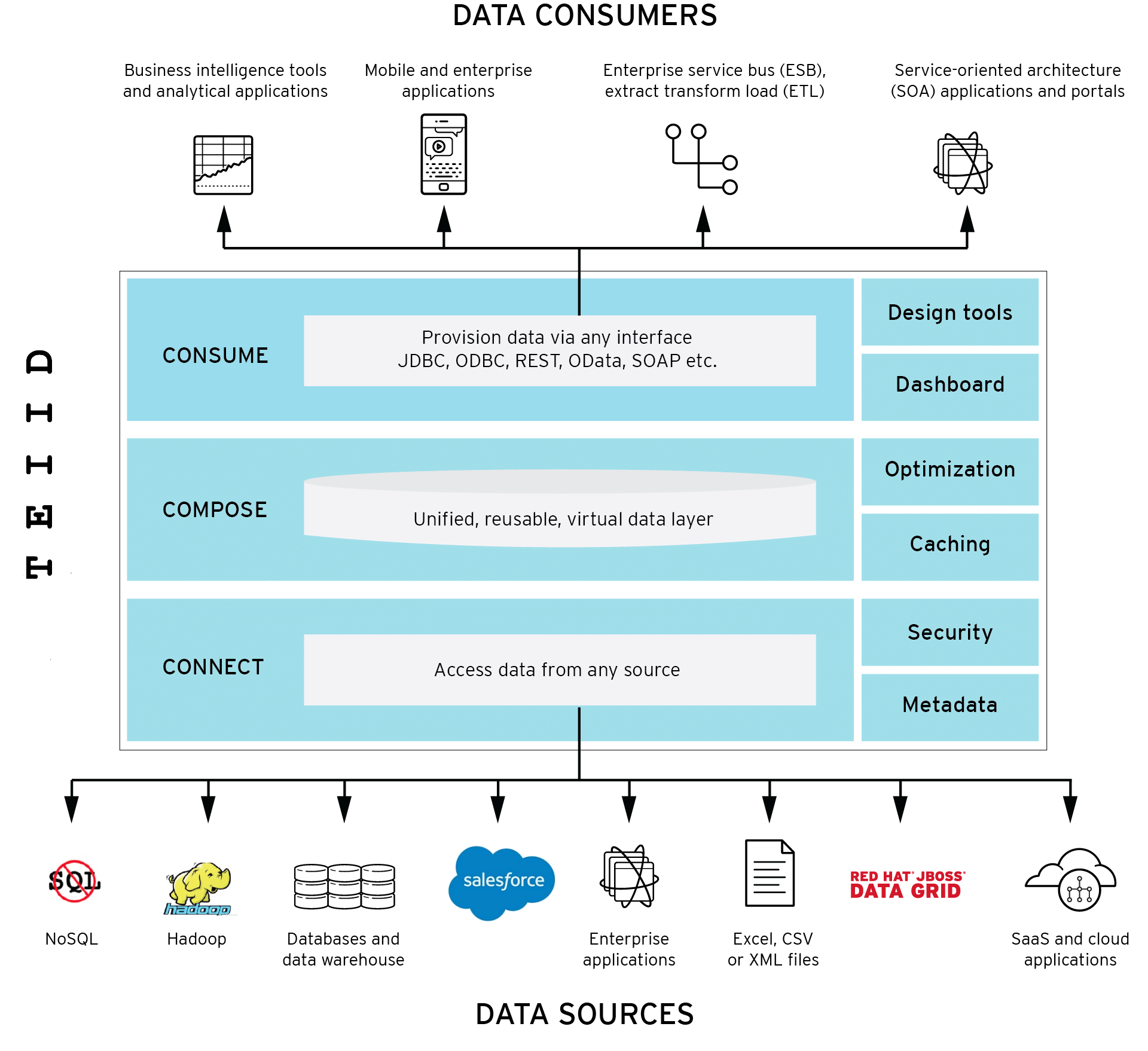 Teiid is comprised of tools, components and services for creating and executing bi-directional data services.
Through abstraction and federation, data is accessed and integrated in real-time across distributed data sources without copying or otherwise moving data from its system of record.
Teiid Parts
| | |
| --- | --- |
| Query Engine | The heart of Teiid is a high-performance query engine that processes relational, XML, XQuery and procedural queries from federated datasources.  Features include support for homogeneous schemas, heterogeneous schemas, transactions, and user defined functions. |
| Embedded | An easy-to-use JDBC Driver that can embed the Query Engine in any Java application. |
| Server | An enterprise ready, scalable, manageable, runtime for the Query Engine that runs inside JBoss AS that provides additional security, fault-tolerance, and administrative features. |
| Connectors | Teiid includes a rich set of Translators and Resource Adapters that enable access to a variety of sources, including most relational databases, web services, text files, and ldap.  Need data from a different source? A custom translators and resource adaptors can easily be developed. |
| Tools | |
Looking for a fully supported, certified Data Virtualization Platform?

tei·id (TEE-id)



adj.     pertaining to a family of tropical American whip-tailed lizards noted for speed and agility.
n.     a set of open source enterprise information integration tools noted for their ability to rapidly create data services that can quickly adapt to changes in your IT environment.
Blog Posts
Useful links